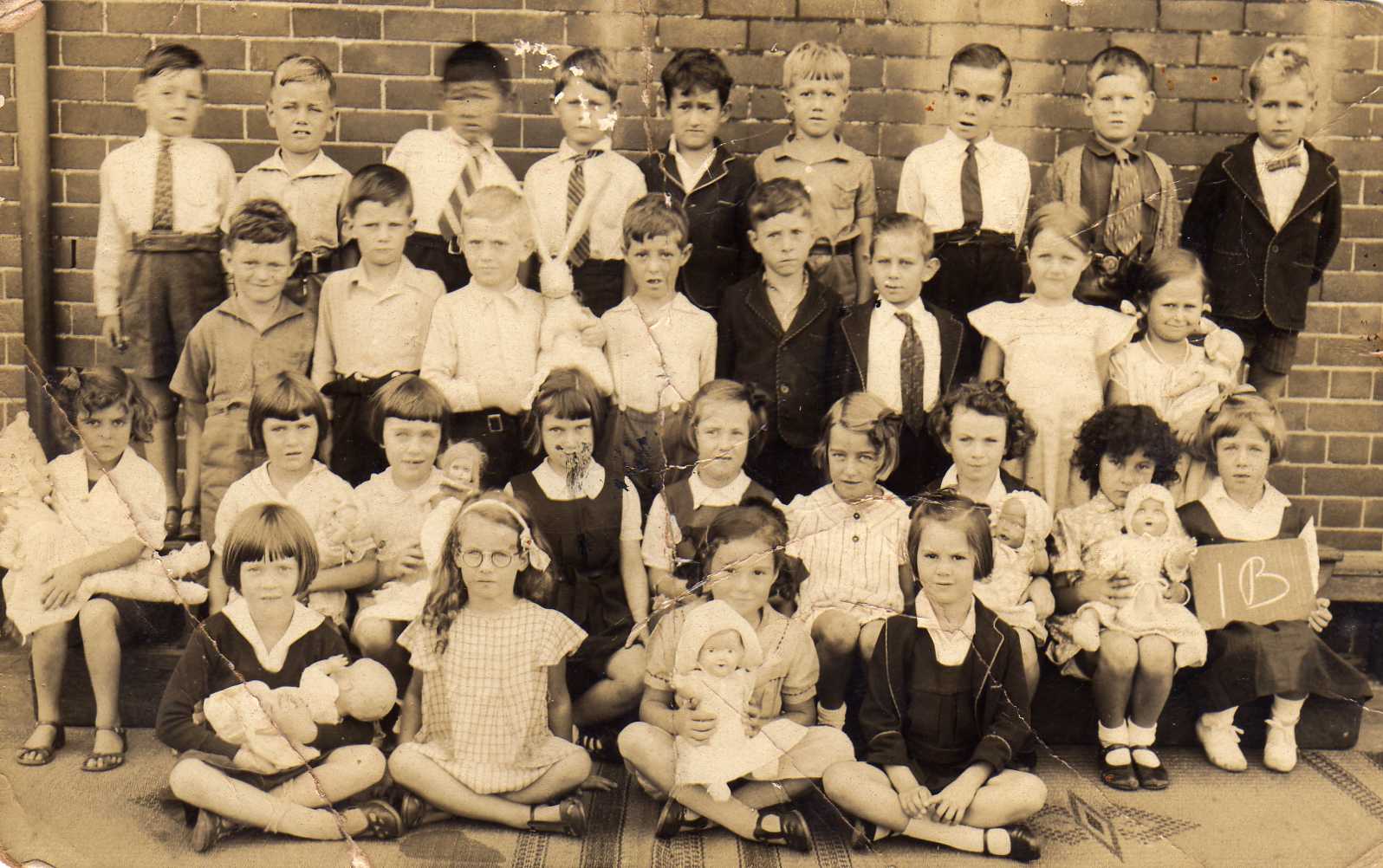 Mosman Infants School, 2nd class, David Clegg, Backrow, 4th from left alongside his friend Takahashi. Photographer unknown, 1938
My first memory of Sirius Avenue is of a hill rising from what was originally a creek bed wending its way from a ridge – Queen Street, in a southerly direction and gradually increasing in width to become Little Sirius Cove. At the bottom of Sirius Avenue was and still is, a pedestrian bridge providing access over the creek bed to Lennox Street.
I was born in 1930 and we were living in Tivoli Street .But six months later, my parents moved to Sirius Avenue and to the most wonderful place for any young boy to live. The house had a veranda overlooking the main harbour with easy access to Sirius Cove beach and the bush tracks started at the Cove and led past the zoo, Ashton Park and Bradley's Head ending at that time at Chowder Bay.
Sirius Avenue was a dirt road rising steeply from the creek bed east to west and finishing in a dead end.
Our house was on the northern side of Sirius Avenue and was the last before the road ended. Opposite was an expanse of bushland with a small timber cottage, occupied, if my, memory serves me correctly, by an elderly lady, Mrs Flannery.
At the height of the depression, in 1936, work was commenced to seal Sirius Avenue and I remember the gangs of depression relief workers who were involved in concreting the road surface and the steam roller chugging slowly but noisily up the steep hill as it levelled the surface. I was fascinated by all this and remember vividly the human activity involved.
On the western side of our house was a flight of steps climbing up to Sverge Street which leads up a short hill to Clanalpine Street. Beyond the steps and at the bottom of Sverge Street was a block of four flats. These flats were very strangely designed looking very much, to my eyes like a witch's castle. Indeed, one of the flats, which opened on to Sverge Street, was inhabited by a witch! Why was I convinced she was a witch? Because, she was an elderly lady and it seemed, every time I walked past she would be sweeping the entrance to her flat with a straw broom and wearing a long black dress. And she was very gruff. I don't think she liked little boys!
One of the upper flats was occupied by an elderly couple, Mr and Mrs Ralph and their daughter Kitty. In the other upper flat lived Mrs McHolm and her son Barry. The fourth and lower flat was occupied by Mr and Mrs Southern and their son Richard. Richard, who was about my age, became my first friend and we shared a friendship into our teens. family were interesting. The father, Robert was an Englishman who never seemed to go to work. The ground floor flat they lived in had an open verandah facing our house and each morning he would appear in leopard skin tights and exercise with barbells in full view of anyone passing. I have a sneaking suspicion that my mother, who could view this performance from our lounge room window, had a nice start to her day! The flat in which they lived was most peculiar. It had a very large bathroom in which was installed a printing press! I discovered later that Mr Southern was a communist and the printing press was there to produce communist literature. I was invited to spend a holiday with Richard and his parents at the large house in Katoomba owned by Dr and Mrs Dark. They were well known Communist sympathisers and Mrs Eleanor Dark was the highly regarded author of books on Australian history.
Sirius Avenue was a dead-end street and beyond it was mostly bush but in 1936, building workers arrived and commenced building a block of flats on the vacant land. Such excitement for Richard and I! Perched on the boundary of Richards's place we were able to watch the activity as trucks arrived to deposit sand and cement to be shovelled into the rotating drums on the cement mixers and the brickies carrying bricks in their hods as they climbed the scaffolding around the building. One day, Richard and I ventured close to the site but were told to go away as we could catch "indigestion of the blowhole". What that meant I have no idea but we didn't stay to find out!
The cottage opposite, occupied by Mrs Flannery was demolished, probably about 1937 and a modern and substantial two story residence was built by a Mr and Mrs Porter. This property was important because inside it's boundary and close to the road was a mulberry tree which provided not only succulent fruit but leaves to feed silkworms.
In the house next to ours lived an elderly couple, Mr and Mrs Smith who owned an English car called a "Singer". It was an open 2 door roadster with a cloth hood. Mr Smith kept it in immaculate condition and it was used mainly during the cricket season when on Saturdays they would travel with a picnic basket to wherever Mosman were playing. Their nephew was Clive Calvert, a prominent member of Mosman CC who later played representative cricket. Calvert went away to the war and featured as a member of the Australian Forces team that toured England after the war.
Two doors from our house lived Mr and Mrs Jarman and their two sons, Ron who was four years older and Noel who was two years older than me.Their parent owned a 1928 Buick later replaced by a 1935 Ford V8.Owning a car in those days was not as common as today. Indeed in those depression days not everyone could own a fridge or even the telephone!
Living next to the Jarmans were Colonel and Mrs Holland and their daughter, Jean.
On the opposite side of the street lived the porters, next to them Mr and Mrs Wilson and their daughter, Elaine. The last house was semi-detached with Mr and Mrs Gunter and their daughter, Joyce on one side and my grandmother Chatfield on the other.
Naughty Boys.
Sirius Cove was a paradise for small boys and in easy reach from our house. The beach Was protected by a shark proof net and at low tide was a large stretch of flat sand ideal for playing cricket .At high tide, especially with the king tides in summer, it was a wonderful and safe place to swim. In the early thirties there were two wooden swings and seesaws
However, they didn't last very long as the salt water affected their longevity and they finally eroded. There were also two change sheds, one on the western side and another on the northern side.They also disappeared after a few years. In summer the Cove was well patronised by locals, especially on Sunday mornings when parents and children would sit on the rocks and enjoy a dip at the deep end of the Cove.
In those days social attitudes relating to the outdoor activities of children were different from those of today. There was a more lenient attitude towards allowing children to experience activities that involved a bit of danger. Whilst parents were careful to ensure their children were aware of taking care there was not the more protective attitudes of today. Sirius Cove was ringed with quite tall Angophora gum trees which presented opportunities and challenges for tree climbing boys some of whom were quite unfazed about the danger of falling from high branches.
Another pastime which was indulged in while walking along the bush tracks was the use of caterpaults.These were made from a forked section of a small tree branch to which was fixed from two thin strips of rubber from a used bicycle inner tube and a pouch of leather. Armed with one of these and a pocket full of pebbles a boy could fell a bird from a tree branch with a practiced degree of accuracy This was one of the less savoury activities of some boys and not one that I indulged in although I had some admiration for their prowess. These lethal weapons were known as "gings".
Sirius Cove today includes a large area as a grassy reserve. In the late thirties the council began using the creek bed as a waste dump and it became a haven for water rats For a number of years it was a smelly place to be near but, with the end of the war gradually filled to become a most attractive grassy reserve.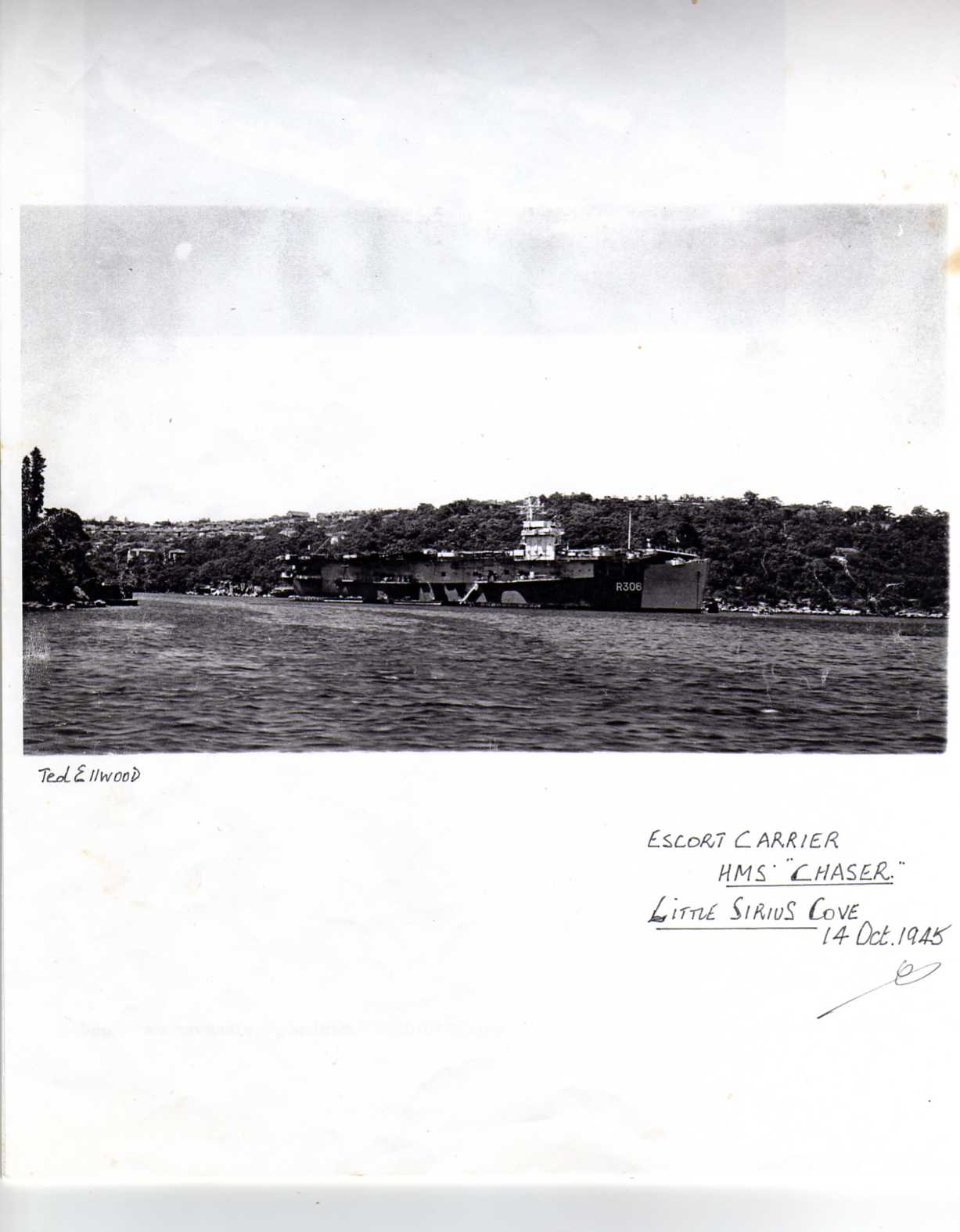 Aircraft carrier, HMS Chaser in Sirius Cove , Photo by Ted Ellwood, 1945
During peace time the harbour was always busy with shipping and because our house had a view we were very familiar with the various overseas liners that arrived and departed. The Manoora, Manunda, Wanganella etc. all Australian Passenger ships, not to forget Captain Davy's Awatea on the trans-Tasman route. Then came the second world war and the greatly increased activity of Australian and Allied warships.The cruisers HMAS Canberra, Australia, Sydney, Hobart, Perth and Adelaide and the many destroyers, corvettes etc. were well recognized and identifiable by us. Overhead, we became familiar with the many aircraft types including Avro Ansons, Wirraways, Kittyhawks as well as Tiger Moths used for training pilots. When Japan entered the war, beaches, including Balmoral had barbed wire installed and trenches were dug in school grounds and public parks. Buses had glass windows removed and replaced with metal slides. Buses were also camouflaged. Opposite the Zoo entrance heavy anti-aircraft guns were installed together with a battery of searchlights. One evening I joined a gathering of local residents at the zoo entrance to watch the soldiers practicing searchlight drills.
My mother volunteered to become a collector of money from residents of Sirius Avenue as contributions for the purchase of War Savings Stamps and Certificates. She also joined other locals who gathered in private homes making camouflage nets.
On 10th April, 1940 I was in 5th class at Mosman Primary School and that afternoon we were addressed by a teacher, Mr Sybra who advised that it had been decided by the school that we could leave earlier that afternoon. He added that it could be of interest to us to try to find a place where we could get a view of the main harbour as there could be something of interest to see. He didn't say what it would be and having a good view from our house I arrived home as quickly as possible and sat glued to the window. Sure enough and late in the afternoon a liner appeared. It was the" Aquatania" huge with four funnels and with tugs attached berthed at Woolloomooloo. A few days later an even more impressive sight was the arrival of the mighty Queen Mary. She was so big she had to be anchored off Athol Bight as the harbour was too shallow further on.
The most dramatic event that brought the war home to us was the midget submarine attack on Sydney Harbour on Sunday evening, 30th may, 1942.Much has been written about this event. Earlier in the war, Darwin had been attacked from the air and we were in no doubt that Australia was vulnerable. But to experience an attack so close to home removed any doubt. From the window of our house we witnessed tracer shells fired from the USS Chicago anchored off Rose Bay. And Early next morning the explosions caused by the dropping of depth charges in Taylor Bay. At the time we had no idea what was happening and although the newspapers had some news the details were not revealed until much later.
In 1945, the British Pacific Fleet arrived in Sydney Harbour and two escort aircraft carriers were anchored in Mosman Waters. One, the HMS Chaser was moored in Sirius Cove and the other, HMS Vindex in Mosman Bay. One Sunday, my young brother, Philip and I decided to spend the afternoon on Musgrave Street Wharf on the off chance we could somehow get on board the Vindex. The ship's pinnace was taking crew on and off between the carrier and the wharf but earlier requests from us were negative. At last a positive and we climbed up the ship's ladder and were given a tour of inspection. Such excitement!
One downside was the discharge of fuel oil from shipping in the harbour gradually polluting the bays and inlets of the harbour and a less enjoyable experience.
Other matters relating to the war included the boarding up or sandbagging of shopfronts, gauze and black paint over house windows, wooden shovels to pick up remains of incendiary bombs, air raid shelters dug in gardens (we tried but it filled with water and bred mozzies!),air raid wardens shouting to keep lights out, practice air raid sirens, and the sight of the magic American soldiers with their attractive uniforms and attractive Aussie girls on their arms.
CUBS AND SCOUTS
I joined 1st Balmoral cubs who met on a weekday evening at the reserve at Edwards Beach next to the Balmoral Beach Club. Our Akela was Bruce Watson. One of the memories I have was of a campfire which involved a bus trip to French's Forest, sizzling sausages over a fire and singing Cub songs into the early hours of the night.
After Cubs I joined the 1st Port Jackson Sea Scouts situated in a boatshed at the southern end of Balmoral Beach. Memories include a re-enactment of the Dunkirk rescue. A couple of the troop's boats were rowed from the boatshed to the beach to rescue khaki clad scouts who waded to the boats and were rowed back to the Shed Most of the boys spent the afternoon in wet clothes. This Dunkirk enactment was the main feature of an afternoon fair put on to raise funds for the war effort. I won a raffle that afternoon-a model fort which I carried home from Balmoral to home in Sirius Avenue- raffle that afternoon-a model fort which I carried home from Balmoral to home in Sirius Avenue-a fairly long walk in wet pants!
SCHOOL DAYS
My first school was "Soloriens" and the principal was a Mrs Langley. I remember playing in the sand pit ,meeting many new friends and a school Christmas play held in the Mosman Town Hall. I was dressed in a two piece rabbit suit. Unfortunately as I was crawling along the stage the lower half of the suit fell off revealing an unintended view of my bottom. The other memory I have is, while playing in the sand pit hearing a very load explosion and a pall of black smoke coming from the direction of the harbour. It proved to be a major fire which took place at the Manly ferry depot at Neutral Bay. The ferry, the" Belubera" was badly damaged and had to be rebuilt. Soloriens Kindergarten was located near the North eastern corner of Clanalpine and Raglan Streets
From Soloriens Kindergarten, in 1937, I moved on to 1st class at Mosman Infants 'School situated on the corner of Belmont and Myahgah Roads. The Infants school was then at a separate location from the Primary school. My first teacher was Miss Cotton and the School Principal was Miss Saint Smith.
Second year followed in 1938 and my teacher was Mrs Moysey.This year celebrated 150 years from the first settlement in Australia and involved displays by schoolchildren at the Sydney Showground and the receipt of medals and certificates. Other memories of infants school include the awful smell of vegemite, tomato and cheese sandwiches when the small Globite suitcase was opened at lunchtime, free milk delivered for each child, left in the sun and as a result smelling repulsive, lining up to receive Diphtheria inoculations, operations for removal of tonsils and adenoids, prevalence of Infantile Paralysis, Measles, mumps and chicken pox. Radio was the entertainment medium in those days and children's' programs were very popular. These included, on the commercial stations, the Charles Cousins programme "Radio Reporters of the Air" where children who applied would get a certificate and lapel badge in the form of a miniature microphone and of course, the Argonauts on the ABC.
In 1939 the move across the road to the "big school" and third class under Mrs Burns. The school's headmaster was Mr Teasdale.
From there it was-
4th class and Miss Stewart
5th class and Mr Connolly
6th class and Mr Avery and the Primary Final Exam. Following that it was on to North Sydney Boys' High School.
SOME RANDOM MEMORIES
Empire Day, which was then celebrated, I think on 24th May. Scouts, Cubs and Air League members dressed in their uniforms and after an assembly, would march to the Kinema theatre where the Mayor would give an address on the glories of empire, grant us a half holiday and then home to prepare for fireworks which we had collected over the previous week or so;
The Dungeons at Bradley's Head with the large cannons and mast of the original cruiser, HMAS Sydney.
Punishing boys who misbehaved with the cane. Boys who were perpetual recipients learnt how to mitigate pain by rubbing their hands with the leaves of the peppermint tree.
The voice of Cyril Angles as he broadcast the Saturday afternoon races from Randwick, Warwick Farm, Menangle or Megalong Valley. My father would work in the city on Saturday mornings and would arrive home for midday roast and listen to whatever race his office sweep horse was in. He was not a gambler but Saturday afternoon seemed to be always the sound of the race callers.
The GPS Head of the River. An annual institution and broadcast live on the radio on the afternoon of the rowing races culminating with the senior eights and held around Easter. This event was a must for the boys and girls especially those attending the more prestigious colleges and the event concluded with a ball .Before the war the race was held on the Lane Cove River but during the war was relocated to the Nepean River at Penrith. One day in 1937 viewing the arrival of the flying boat "Centaurus", the biggest aeroplane yet seen over Sydney.
So many wonderful memories of my early life spent in a wonderful place and a great time in which to grow up.