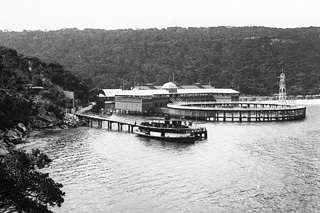 My recollections of Clifton Gardens start soon after World War Two ended. My father had survived the war with the famous Sixth division from Sept 1939 through to 1945 campaigns in the Middle East, Greece, Crete and New Guinea. He had now come home to the old terrace house my mother, myself and sister shared with Grandparents and extended family in John Street, Erskineville.
Dad got a job as a beer delivery carter, first by horse and waggon and later by truck at Tooths Brewery Broadway Sydney.
He purchased an old Essex car and started taking us on weekend excursions to Sydney beaches. This great event for my eight year old sister and me aged ten who only knew the then slum streets of Erskineville, Redfern and Newtown.
One day Dad come home from work and told us an army mate had told him that the military establishment at Chowder Bay had vacated some of their buildings and land at a place called Clifton Gardens and that a couple of families had started to use these grounds and huts left behind by the army to camp in. Dad loaded us all into his Essex with an old army tent and some camping gear and away we went over the Harbour Bridge through suburbs we had never seen before, Neutral Bay, Mosman and on to find this place which was somewhere on the way to Taronga Park Zoo.
Arriving at Clifton Gardens
To us kids used to the dingy streets of the inner city, on our arrival at Clifton Gardens it was paradise, we had not ever experienced anything like it. Along with an Aunty Olga and Uncle Paddy we commandeered two huts and our family got to work quickly and over a period of time turned them into our own holiday camps.
The hut my Aunty and Uncle took was tiny, more like a small guard house, just big enough to accommodate a double bed and a small kitchen area.
It was situated at the northern end of the grounds, along side a dry creek, which only flowed when it rained, near the track which led up to the army water transport camp at Chowder Bay. A couple of hundred yards from there, facing the harbour just above the beach, and to the left of the wharf jutting out into the harbour was the small hut we took.
To the left of this wharf across the harbour khaki coloured boats were moored, Dad said they were army patrol boats known as Fairmiles. Our hut was small partitioned into four sections with open sides. Dad put a tarpaulin all around it, he and Mum slept in one section on a bed they made up and my sister and I slept in ex-navy hammocks slung between posts in two other sections. The fourth section served as the kitchen and dining area. Mum cooked on a primus stove. To us small kids there was no other place like it on earth, a beach, sand, water, bush, trees no traffic. My sister and I spent every waking minute, fishing, swimming and exploring the surrounding bushland and rocky headland around to Taylor Bay and to the sandstone fortifications above Chowder Bay, built in the 1840s, that we called the dungeons.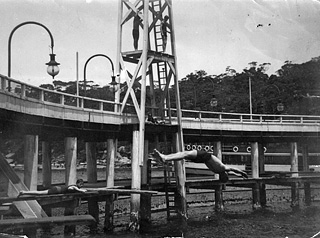 Swimming enclosure
The swimming area was really unique, the wharf I mentioned was on the left side of the bay towards the army water transport base. It was linked by a timber walkway around to a two story structure consisting of an upper deck and a lower deck which was fantastic for jumping or diving off into the shark proof enclosure. The two story deck then went on around joining up with the enormous timber two story dressing sheds which had some residential areas above the changerooms and shower areas. Some of the first of Australia's immigrants had been given accommodation in these rooms. Two Latvian families, I remember were Tishkin and Bolodis, I think there were about four migrant couples living there also.
Lydia Tishkin was a daughter about my age and Tony Bolodis a daughter, was about the age of my sister. We all become friends and there was quite a gang of kids.
The caretaker family that looked after these buildings and the baths were named McCormick, the parents were Bill and Kewpie, their children were Maureen, the eldest, Patty, Michael, Francis, Dennis and Peter.
The kiosk/shop which had been opened was run by Tom Wedderburn and his wife; they had two sons Brian and Colin.
Other families
Other squatter/camper families who come in regular were the O'Brian's from Marrickville with two sons Bob and John. There were the Kennedy's from Darlington with five kids, Helen, Bonnie and the others I can't remember. The Slade family from Glebe with five kids, two called Eddie and Ken. We had a real gang, it was more like a tribe, there were kids ranging from ten down to toddlers.
We were mostly from the poorer areas of Sydney and grew together over the idyllic years spent camping at Clifton Gardens.
Summer
In my minds eye I can still see the huge shady coral trees with their thorns that deterred us from climbing them. Sitting in the cool shade under the wharf that led out over the water to the baths and dressing sheds. Playing hide and seek in the maze of the dressing sheds. Swimming and fishing from the beach and wharves.
On hot summer evenings all the families would be sitting outside eating the evening meal while we played our many games. From first light to dark I would be in the water and had become a very adept underwater swimmer. As more Greek, Italian and Maltese migrants started to come to Clifton Gardens on the weekends, I found myself a small income by diving from the various wharves to the bottom of the pylons where often octopus could be seen. I would grab them around the head, then with their tentacles wrapped around an arm would swim to the surface and sell them for a couple of shillings. By reaching into an aperture at the back of their head you could turn them inside out and kill them immediately.
The ferry service had reopened soon after the war ended and used to run regularly on the weekends from Circular Quay to the main ferry wharf, on the right hand side of the bay, across from the bathing sheds.
Once we had our permanent camps set up, the whole family including grandparents, aunties, uncles and cousins would pile into the number 300 double decker bus at Erskineville for the trip to Circular Quay; cross the road, then onto the Sydney ferry for the leisurely trip across the Harbour; the ferry stopping at Neilsen Park to offload passengers at that popular park and swimming area on its way.
As Clifton Gardens become more popular, the weekend visitors grew in numbers and we made many more friends, some who would camp on occasions, but we considered Clifton Gardens ours, we were almost like permanent residents and would often patrol the area picking up bottles and rubbish left behind by the careless.
New quarters
After the first year or more the McCormick family offered us a huge storage room in the dressing shed area behind their living quarters as a permanent lock up camp. It was a much better arrangement close to showers and toilets and we were all extremely happy with our new quarters, especially my sister and me.
Right outside our door was the swimming area. The dressing sheds and the storage room was built out over the water on a heavy timber wharf – just three or four leaps from our doorway to the edge of the wharf and we could dive straight into the clear water, even at low tide. The room being so big, enabled Dad to partition it off into sections using hessian curtains. We now had a bigger kitchen, dining area and separate sleeping quarters. My sister had an ex- army steel bunk, Mum and Dad had a double bed and I stuck to my navy hammock which I loved sleeping in, it was slung between two huge square roof support timbers. The biggest bonus to me was that my sleeping section had a trapdoor lid set into the timber floor below my hammock and when the bream were feeding at night, particularly in May and June, I could sit snug and warm on my hammock and fish down between the piers in water from 3 to 5 feet deep – during our time there I caught some excellent black bream.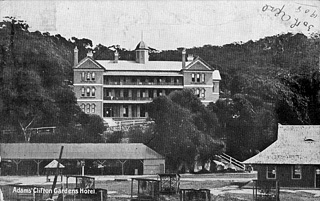 Clifton Gardens Hotel
A short walk up the road, which came down from the streets above, would bring you to the Clifton Gardens Hotel an old federation style pub which was destroyed by fire in later years.
There were places where you could still see remnants of the old tramway that used to run from the ferry wharf to the pub when ferries used to bring people over for dances and parties.
The Clifton Gardens Hotel was popular with all the adults who would wander up there in the afternoons for some rather happy party times.
An event which comes to my mind that happened at the pub was when a couple of blokes in army balaclavas carrying a Thomson sub-machine gun burst in at closing time and held up the staff who were counting the days takings. They got away but not too far, based on descriptions the police conducted a raid on the nearby army water transport base and found the culprits asleep in their bunks with the money and the gun under one of them.
When the pub burnt down it was a heartbreaking thing to all the campers and sadly missed, but it was rumoured that the gentry who lived in the fine mansions above were happy to see it go.
Fishing
My Uncle Paddy and Aunty Olga who had the small hut at the northern end of Clifton Gardens owned a motor launch with an inboard putt putt motor. They rented a flat overlooking Elizabeth Bay and could see down to where their boat was moored in the bay. They would load their boat with provisions and then motor across the harbour to Clifton Gardens where they would beach and anchor their boat close by their hut.
They were very keen on going outside Sydney Heads to go fishing and made frequent trips out to sea taking my Dad and sometimes me. If the catch was big, my sister and I had the job of cleaning the surplus fish which was distributed amongst friends and if there was any left over we had the job of wandering around other campers selling the fish. In those days I think the fishing was much better than it is today, we seemed to always be able to catch a feed.
When the tailor and mackerel were running it could get exciting hauling your fish in and getting a fresh baited line out for the next one. Often my sister, myself and other kids would sit for hours on the wharf steps, earning some pocket money, catching dozens of small yellowtail to be used for live bait fishing. We had the use of a small wooden two person dinghy and, unknown to our parents, would often row out into Sydney Harbour to fish almost as far out as the Manly Ferry lanes and Sow and Pigs reef.
Once with a heavy line outside fishing line, a wire trace and a live bait, we hooked a shark which towed us madly around the harbour almost pulling the dinghy under until I cut the line.
Another time we rowed all the way across to Neilsen Park and got a bit of scare, when the wind and waves rose on the long row back, dodging the ferries and other boats criss- crossing the harbour.
My growing years from ten years old in 1946 to my early manhood about 1958 were spent in this way, living and visiting between our home in Erskineville and our "squatters' camp" at Clifton Gardens until I eventually joined the Merchant Navy.
Merchant navy
At the age of fifteen I had started work at Cockatoo Island Dockyard to become a Shipwright learning the trade for the next six years.
The harbour ferry only run from Taronga Park Zoo wharf on week days, so if we were staying at Clifton Gardens it would see me rising at early dawn and jogging the 4 kms around Taylor Bay, Ashton Park, and onto Taronga Park Zoo wharf to catch the first ferry, offloading at Circular Quay and onto the first workers ferry about 7.30am headed for Cockatoo Island further up the Harbour near the entrance of the Parramatta River. In the afternoon I would do the same thing in reverse. In those days I was as fit as an Olympian athlete.
There are many more memories I have of that wonderful period, including my first real romance and many humourous happenings. It was some years later when my life had moved on I heard rather sadly that the old dressing sheds and part of the bathing enclosure wharf had burnt down. On a visit there a couple of years ago, to my adult eye it all seemed a little smaller, a lot more crowded, manicured, and expensive car parking. It is still a lovely place but no where near as nice as my memories of an unspoiled child's paradise.
Coincidences
What I would like to mention now is a couple of remarkable coincidences that occurred in my life in later years which lead back to Mosman and my writing this Mosman Memories story. The coincidences came when I decided to turn a hobby involving horses into a business. This meant that I had to leave the Hawkesbury River, where I was living, north of Sydney and buy a 1656 acre piece of mountain country in the New England ranges known as Bullock Mountain, 15 kms northwest of Glen Innes. There I started a horse trekking and holiday farm business.
This chunk of land was wedged between two portions of country which are of historical significance to the development of Mosman in the early 1800s.
Slightly north west again of Bullock Mountain is Rangers Valley, the then huge holding of one of the first white selectors to come into the region named Oswald Bloxsome. Bloxsome took up a holding of 70,000 acres between Tenterfield and Glen Innes in the Deepwater region and later purchased one of the early tracts of land in Mosman. On that land he built a mansion and called it Rangers.
To this day I am friends with a great, great, great grandson Craig Bloxsome who lives on a Deer farming property which was part of the original Bloxsome selection at the edge of Rangers Valley.
The second coincidence is the land to the south east of me is the land that was purchased by Archibald Mosman whom Mosman Municipality is named after.
This land Mosman purchased in the late 1840s was named Furracabad, an aboriginal name for the creek that flowed through his holding, and is now the land that the town of Glen Innes sits on. Glen Innes was named by Archibald Mosman to honour Major Clune Innes a landholder of Port Macquarie fame and the previous owner of Furracabad.
The Furracabad Creek forms one boundary of my land which operates as Three Waters High Country Holidays. The Three Waters being the Furracabad and Reddestone Ceeks and the Beardy Waters River which all flow on and through Rangers Valley, Bloxsome's original large holding where it becomes the Severn River. This was named by Bloxsome after a river in his homeland. The original 70,000 acres of Rangers Valley is now reduced to 10,000 acres and is one of the largest cattle feed lots in the country, it has a herd of black Angus cattle in excess of 25,000 being processed regularly for the Japanese market and is owned by a Japanese syndicate. The majority of landholders on the fertile growing land around there are under contract to grow corn to supply the feedlot.
That is all for now
Should any readers be interested I would gladly give more of my memories of magic Clifton Gardens seen through childhood and early teen eyes.