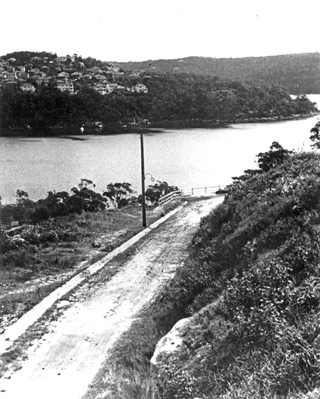 Bay Street, Beauty Point
I believe that Bay Street for a small child was probably one of Best Streets in Mosman for offering an Insight into the Heritage of this Country and the Opportunity to Sample some of the Real Australia. I spent the years from Birth to my Later Teens [1939 to 1957] living at Number 19 Bay Street, which later became Number 75 Bay Street due the releasing of Bushland for Residential Usage [around 1950 something] further down the Southern Side of Bay Street. My home overlooked the Inner Middle Harbour, offering probably one of the best views that the Harbour could offer at that time.
Japanese midget subs
From Home I could look across the water to Sir Edward Hallstrom's [Taronga Park & Silent Knight Refrigerators fame] Residence and Private Zoo at Fig Tree Point in Northbridge, I could see all the way right up to Cammeray, check out Cremorne Baths and the Boat Shed next door and watch any Sailing Craft on the water. Sometimes I would see the "Showboat" Ferry running people around the waters of Middle Harbour, and who could ever forget that Night in May 1942 when the Japanese Submarines entered Sydney Harbour.
Middle Harbour itself that night was ablaze with colours similar to a Giant Fireworks Display as the Patrol Boats ran around the Harbour dropping Depth Charges to protect the Landing Ship Tank Vessels and other Small Naval Craft moored up at Cammeray Bay. I watched all of this with Great Excitement as a Small Child because of the Beauty of the Flares and Searchlights that were appearing from everywhere around the Harbour during the Night and Early Morning. My Mother and I spent the next couple of days going down to Split Rock in Quakers Hat Bay picking up the Dead Fish which had floated to the Water's Surface, and taking them Home to supplement our War Rations.
Growing up in Beauty Point
During my childhood days I used to frequent the Baths at Beauty Point, Cremorne, Balmoral and of course, The Spit, always keeping an eye open for Portugese Man-O-Wars and their stinging nettles. On one occasion a shark actually got into the Beauty Point Baths enclosure, and the Baths was closed for a short period. The Spit Baths were operated by Sam Hereford and his Family and they had a Daughter named Kim who, when she was about Three Years old she could beat most Adults at Swimming in the Baths. The Baths had Lockers which were above the water by several feet and you had to be careful that you didn't drop any money which could trickle into the water below you. The Spit Baths were the Swimming Pool for North Sydney Boys High School Students along with, on the same day, Girls from North Sydney Girls High School. The Boys and the Girls swam in separate sections of the Baths with the walking jetty inside the Baths between them. After leaving Spit Baths I would then climb up the Spit Rocks Cliff Face to the Parriwi Park Area above and then continue on up to Central Avenue.
What a magnificent Street Central Avenue was, with its Ribbed Concrete Road Surface and the Great Steep Hill leading down to Bay Street. God only knows how many times I stubbed my Big Toes when walking in Bare Feet down Central Avenue. Central Avenue was also a really great area to Billy-cart Race down, along with many other Streets in Mosman. There used to be a Family named D'Arcy who lived Half-way down Central Avenue and they owned a Massive Great Dane Dog whose name was Mark.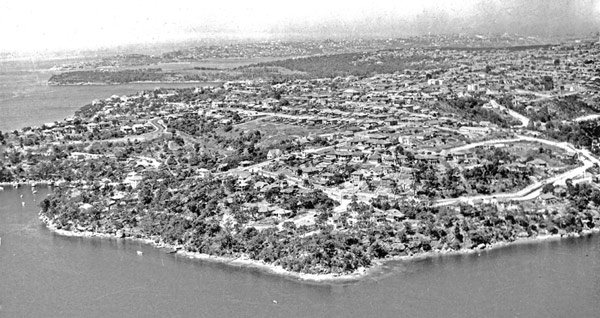 My Home was at the Apex of Bay Street, Right at the Top of the Hill with the Even Numbered Houses in Bay Street about 80 Feet Below and Accessed to us by a Fantastically Built Giant Multi-Storied Wooden Staircase which as a child I used to run up and down while on my way to places such as Quakers Hat. I used to sometimes go Fishing on the Quakers Hat rock, but never on a Windy Day because the Rock Sand would really sting you badly as it swirled around the Rock. You also had to be careful when jumping out onto the Quakers Hat because of the turbulent water which surrounded it and the barnacles on the surrounding rock areas. When I used to go swimming at Beauty Point Baths I would walk past the Home at the Northern Bottom End of Bay Street, of a Truly Great Man named Stan McCabe, the Former Australian Test Cricketer. Whenever he would see me walking by he would always say Hello, and I used to go to his Sports Shop at Spit Junction [Just into Military Road on the Mosman Side] whenever I had some money for Sports Gear. I also used to see the Radio Personality Bob Dyer shopping for Prizes on his Show, around the Spit Junction Shops, especially the Electrical Retailer located just near the "Kings" Picture Theatre. You could always tell when Bob Dyer was around by his distinctive Grey Willys Station Wagon with its Varnished Timber Framework. He lived with his wife Dolly in a flat at Balmoral early on but later moved to a House at Number 10 Bay Street on the Southern Side, a Home which boasted a Croquet Lawn, a Tennis Court, Harbour-side Baths complete with a Boat Shed and Boat Ramp among other things. Shortly after moving to his new Home he had a Swimming Pool built in his Back Garden Area so I brazenly asked him one day if I could use his Harbour-side Baths instead of walking all the way over to the Cremorne Baths. He agreed, provided that I didn't use it if he had Guests. He used to keep his Boat, "Tennessee II" mainly on his Boat Ramp when he wasn't using it, and I believe he had it serviced by the Halvorsens who had a Boat Shed in Middle harbour at Cremorne.
School years
As a child I used to walk from Bay Street up to Medusa Street and catch the 236 Bus at the Bus Stop directly opposite the Entrance Lane to the Dairy Farmers Dairy, and travel either to Mosman Primary School, where my favourite Teacher was Miss L. Baxter, a great educator and a mean thrower of blackboard dusters, or on non-school days I would relish sitting in the Top Front Seat of the Double-Deckers and being exhilirated out of my mind when the Bus travelled down that Steep Musgrave Street Hill to the Wharf Dropping-off Point. Who can remember Empire Day and what it represented to a Primary School student, and who can remember that daily glass of milk in the Primary School Ground before commencing Class for the day? My class used to walk up to the Newly-opened Mosman Public Library regularly on one day during the week and I would select such great books as "The Jungle Book" by Rudyard Kipling or "Bib 'N" Bub" stories.
The Ferries to the Mosman Wharves always had something to show for their Passengers then, Sights such as the Mast of H.M.A.S. Sydney, the Bows of H.M.A.S. Sydney, the Naval Reserve Fleet moored down at Athol Bay, with warships such as that Mighty Big County Class Cruiser, H.M.[A] S. Shropshire berthed there, and of course the Cannons that were to defend New South Wales against Attack from the Russians during the Crimean War.
Mosman Bay itself was a Fantastic Area to visit with the Beautiful Reid Park adjacent to the Ferry Wharf, and of course, at Low Tide you could walk out onto the Mud Flats at the Bay among those thousands of Soldier Crabs, who covered the Mud Flats in Blue with their shells, and you would come to realise why the Whalers used Mosman Bay for Flenching.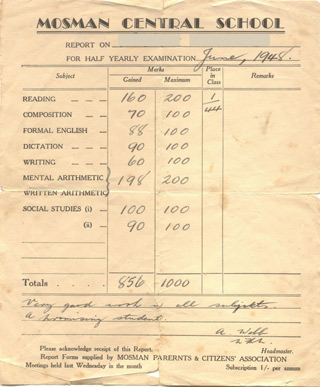 After 6th. Class at Mosman Primary School I received a Scholarship to attend the First Public Schools' Co-Educational High School Classes at Fort Street Girls' High School for Two Years, the School being located above The Cut and adjacent to Sydney Observatory.
Once again I learnt more about our Country's Heritage when I used to Watch the Ball Drop on the Observatory Tower Pole and I would hear a Cannon on Fort Denison acknowledging when the Ball had Reached the Bottom of the Pole. This was of course was to notify Lady Macquarie, Wife of the one of the Former Governors, that it was One O'clock and Lunch-time and she should leave Her Chair on the Harbourside to attend for Her Meal at Government House.
I had to travel to Fort Street by Tram which I used to catch in Parriwi Road after walking down those magnificent Wooden Stairs from Spit Road. My dog "Scotty" used to wait for me in Spit Road opposite the Stairs in the afternoon after School and walk with me all the way home to Bay Street.
I would often get off the City-bound Tram while going to School and walk across the Bridge to save the One Penny Bridge Toll so that I could get a Bag of Broken Biscuits at Spit Junction on the Way Home or a Bag of Lollies which I would eat while I walked Home to Bay Street and upon meeting my dog, share them with him.
Classic liners in the Harbour
Often when I was walking across the Bridge I would stop about half-way across to watch the liners such as the P&O Vessels Himalaya, Orion, Orontes and Oronsay berthing at Circular Quay, or the Trans-Tasman vessel Wanganella going under the Bridge before berthing at Darling Harbour. You could see the Sunderland Flying Boats bouncing along the Harbour as they took off from Rose Bay, and you could also see the might of the R.A.N. with their vessels parked over at Garden Island and seeing all of this you could really grasp the fact that Sydney Harbour was so important in those days to the development of our Great Country. I can also vividly remember seeing the QANTAS Lockheed Constellation aircraft flying over Sydney. There was no Sydney Opera House then.
Mosman incidentals
Other incidental things that were of note to a small child in that era were that "Smiths Crisps" in those days came in a Greaseproof Clear Bag with the Salt encased inside the Bag in a Twist of Cellophane, and further up Military Road from Spit Junction was the "Mynor" Drink Factory at Cremorne Junction were they made the "Gi" soft drink and just a little bit further up was the "Orpheum" Picture Theatre, and even further along Military Road was the Tram Depot at Neutral Bay.
After leaving Fort Street I attended North Sydney Boys High School in Falcon Street, North Sydney until my Family moved to Victoria in 1957 where unfortunately, I lost all my Photographic Memories of Places such as Beauty Point Baths, Mosman Primary School Classes and other Mosman and Surrounding Areas Memorabilia during The Ash Wednesday Bushfires at Mount Macedon in Victoria in 1983.
Bay Street for me was a Fantastic Starting Point to Swimming Areas such as Chinamans Beach, Balmoral, Wy-Ar-Gine Point, Edwards Beach, Clifton Gardens, Cremorne, Beauty Point and The Spit. I used to walk around the Rocks at Balmoral and then around the Wire Fence at H.M.A.S. Penguin to walk along the Jetty and talk to the British Submariners who, with their T-Class Submarines [H.M.S. Thermopylae, H.M.S. Telemachus among them], were moored there while conducting Exercises in Australian Waters. H.M.A.S. Penguin always had a beautifully manicured Front Lawn and Garden area. Balmoral itself had the thought-provoking "Coliseum" under Construction, which reputedly was being built for a Visiting American Evangilist.
While at Mosman Primary I became a Member of the 4th. Mosman Sea Scouts located down in Mosman Bay and later, Thanks to the Generosity of Mosman Council in Providing a Scout Hall in Parriwi Park, I became a Member of the 1st. Beauty Point Scout Troop at their newly constructed Scout Hall at the End of Upper Spit Road in Parriwi Park.. We left a Time Canister Buried outside that Scout Hall shortly after it's Opening.
Bay Street and it's surrounding areas were supplied by Deliverers with their Horse and Cart, people like the Milkman who used to pour his Bulk Creamy Milk from a scoop into a container outside your door, the Ice-man who used to put a Block of Ice into your Refrigerator/Ice Box, the Baker who used to deliver that Beautifully Fresh High-Tin Loaf of Crusty Bread along with other Bakery delights, and an old and thin Chinaman who used to ply his Haberdashery Trade from his Horse and Cart around the area. All of these people were great characters to a growing child.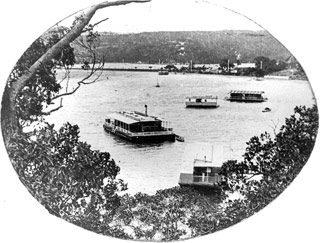 Who can ever forget the House Boats that where be moored down at Pearl Bay, or watching The Spit Bridge Opening Up and Closing for Large Vessels, and watching the VJ's [Vaucluse Juniors] with their Spinnaker Sail Billowing out in front of them while sailing outside the Middle Harbour Yacht Club on a Sunny Day. Sometimes for a bit of an adventure I would row from Balmoral over to Crater Cove on the Middle Harbour side of North Head and spend the day fishing and swimming there. It really was a Paradise because of the Beautiful Beach Area and the fact that you were sheltered from any winds by the Great Headlands that surrounded the area. The water in Crater Cove was always calm, except of course on stormy days.
At the Rear of My Home and directly opposite in Central Avenue lived Mr. J. Arnold, His Wife and Family [Son John] and he was the Accredited Diplomatic Consul for the Caribbean Island of Dominica and he used to carry his DC Badge proudly on the Front Bumper Bar of his Black Dodge Motor Car.
Weekend treats
I used to go, along with Friends, on a Saturday Afternoon to the 43 Serials and a Feature Film held at either the Mosman "Hoyts" Theatre or the Neutral Bay "Southern Cross" Theatre, both located in Military Road at either side of Spit Junction.
Sundays I spent attending St. Luke's Church Of England where I was Christened, even trying out for the Choir as a youngster, and on Sunday Nights my Family crowded around the Radio in the Lounge Room to listen to the "General Motors Hour", then it was off to bed. Each day after School I had to pick the Vegetables for Tea from our "Veggie Patch", Check the Hen House for Eggs, and on Sunny Days bring in the Washing off the Line. Do you remember those enormous Clothes Line Poles? While waiting for Tea, I had to do my School Homework, because I had to be in bed by eight o'clock. One of my Favourite Snacks was having a Sandwich made of Fresh Bread and Beef Dripping after Tea, and of course during the War Years we ate a lot of Tripe.
Spit Junction
Saturday Morning I used to walk with my Back Pack up to Favaloro's Fruit & Vegetables Shop, located on the corner of Spit and Military Roads, directly opposite the Mosman Hotel, and after fully loading my Back Pack Up I would then walk home where I received my pocket money so that I could go to the "Flicks" that afternoon.
The Spit Junction Shopping Area during the mid to late 1940's was a place of wonderment to me with places such as Whittle's Hardware with old Mr. Whittle, the Washington H. Soul Pattinson Pharmacy with its Large Decanters and Bottles full of Coloured Liquid, Mr. & Mrs. Thames' Newsagency on the Spit Road side and Moran & Cato's with it's seemingly Mile-high Wall of "Arnotts" Biscuit Tins on the Left-hand side of the Shop as you entered, and their numerous Flying Foxes.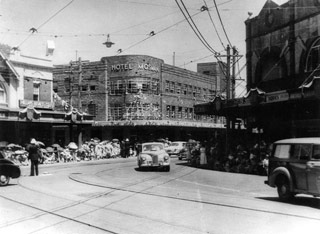 The Shopping Area was also an area of harsh reality to a small child with the "Six O'clock Swill" at the Hotel Mosman, with patrons spilling out onto the streets on the Hotel corner, and sometimes while travelling to School in the morning, seeing a drunken male lying in a Street Gutter, these things all of course I suppose being part of your "Growing-up" period in life.
If I needed Medical attention I would go and see Dr. Twomey [or his partner Dr. Toohey] down in Military Road at Mosman itself. My Aunt [Mildred Pearce] used to work at the Spastic Centre nearby so occasionally I could travel back home with her as a companion..
Bay Street was also an excellent Starting Point to catch the Buses which travelled along Spit Road such as the 144 to St. Leonards or the 150 to Palm Beach, and these provided excellent Sight-seeing Day Trips for a Young Adventurer. For a Hobby in those early days I used to collect Red-Back Spiders, Funnel-Web Spiders and my favourite, the Trap-door Spider, because their Trap-door Entrance in the Ground was so hard to find, they were a real collector's item. The Bushland surrounding Bay Street was prolific with a lot of forms of Australian Wildlife from Kookaburras to Blue-tongue Lizards and often on a Fishing Trip down to Split Rock I would return Home covered in Ticks after walking through the Ti-Trees along the way. And who could ever forget the noise from the Cicadas when they were around.
There was always plenty of opportunity to learn about our country within the Boundaries of Mosman, from the inhabitants, the native flora and fauna and the memorabilia which was located throughout the Suburb. Other residents I remember from Bay Street include Mr. & Mrs. Avis [son Colin, daughter Mary] and Mr. & Mrs. Thompson [daughter Judith] who lived at Numbers 77 and 73 Bay Street respectively. Further down Bay Street in the Odd Street Numbers were the Peters family[son Harry], the Dargans [son Jimmy], and the MacPhersons. Then at the other end of Bay Street on the Beauty Point Road side were the Harkness family [son Colin] and on the other side of the Street next door to the McCabes were the Timony family [daughter Fran].
Now it's your turn
The house that I called Home is now gone. but the memories of those happy times still remain, so I would like to encourage everyone who reads this story to become a Historian themselves, put finger to the keyboard, and enter their own tale about their Street and their Life in it, thus becoming part of the Heritage for the future inhabitants of the City of Mosman, and indeed, possibly for the future generations of our Great Nation.