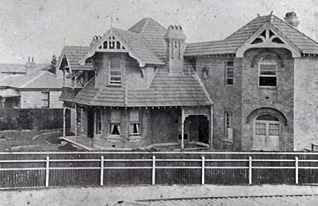 Military Road was put through in 1871 to enable the army to move material out to Middle, George's and Bradley's Heads to defend Sydney following the withdrawal of Imperial troops from the colonies. Following the ridge, it became the public transport corridor, which is why so many shops were located along it and so many doctors set up practice on it.
In the '30s, '40s and '50s, at least 17 houses along Military Road from Cremorne Junction to Mosman Junction were occupied by doctors, mostly GPs whose surgeries were part of the family home.
Naming names
No. 287, Dr. Crawford – now Cremorne

IGA

No. 501, Dr. McNamara – now part of Mosman Toyota
No. 507, Dr. Geoff Mutton, later Kentucky Fried Chicken
No. 653, Dr. Cottee (dentist), then Dr. Gina Cottee (dermatologist) – last to be demolished – now boutiques
No. 669? Dr. Barnes – now units
No. 699, Dr. Ruth Heighway and her husband (also a Doctor), then Dr. Pauline Baillie-Newton and Dr. Ian Fitzpatrick – now Camellia Gardens units
No. 707, Dr. H.G. Holmes – now Mosman Plaza
No. 745, Dr. Doak, then Mosman Library – now part of Mosman High School
No. 790 or 800, Dr. Arthur – now house or townhouses
No. 480, Dr. Roger Playoust – now units (Opp. No. 480, Dr. Robert Deakin)
No. 558, Dr. John Mutton, then Dr. McCaffery – now part of Cheryle Gardens units
No. 562, Drs. T.A.G. Holmes, Bill Epps and Peter McClure, then Drs. Simons and Cook – now units and townhouses.
No. 714? (cnr. Mandolong Rd.) Dr. Elliot-Smith, then Dr. Lando Edwards – now townhouses at 1 Field Way
No. 744, Dr. X – now Beach Lane Specialist Centre
No. 748, Dr. Balls, Dr. Ralph Huntley – now Mosman Medical Centre
No. 830, Dr. Harvey Turk – now units
There were also a number of other dentists, but not living on the premises. With the advent of group medical centres there are probably just as many GPs as before, if not more, in addition to numerous specialists.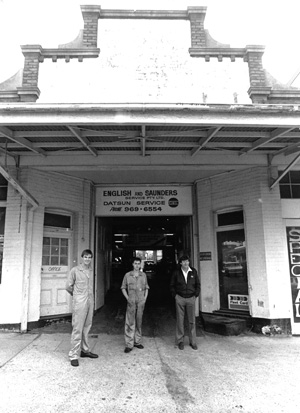 And the rest…
In the same period, this stretch of Military Road presented a much more heterogeneous and utilitarian variety of businesses than today. For example, between Cremorne and Spit Junction there were:
a grocery co-op (cnr. Bardwell Road)
an ice factory
Peerless Bakery (with a paddock and stables for horses down Bardwell Lane)
a timber yard, later squash courts (cnr. Bond Street), now Toyota salerooms
one service station, with a choice of different brands of petrol
a small nursing home
Williams Business College (entrance Gurrigal Street)
… as well as a variety of small shops – butchers, grocers, greengrocers, newsagents, pharmacies, one or two real estate agents, shoe repairs, hardware, secondhand goods (Wildman and Elliott's), drapers (Minty's and Line's), Kerslake's chocolates (made on the premises), gift shops, cake shops, bike shop, pottery, barber, pictures and framing, furniture, fertiliser, banks, hotel, garden nursery, toyshop etc.
In addition, between Spit and Mosman Junctions there were, among others a furniture workshop (Farquharson's), the Kinema cinema (now RSL), at least two watchmakers and electricians (Smarts, AAA).
Since the early '70s there has been a proliferation of real estate agencies, eateries and boutiques on the one hand, while on the other most of the trades have disappeared and the banks have concentrated at Mosman Junction.
There were several halls, including the Town Hall and Small Town Hall (now Council Chambers), the I.O.O.F. Hall in the Cardinal-Bond Street block and the Anzac Hall (now Country Road) on the bend between Mandolong Road and Beach Lane.
Among the few buildings still enjoying the same use as before the Second World War are Leahy's real estate, on the site of the first church in Mosman (Congregational), the Mosman High School building on the corner of Avenue Road, the Sacred Heart Catholic Church and the Fire Station, built in 1918. Mosman Post Office has kept its site.
'Boronia' and its sister house 'Telopea' (now the White House) were a pair of private houses with gardens stretching to Military Road in the '50s when oil companies started buying up corner lots, including Telopea's garden on the corner of Cowles Road. (At one point there were seven service stations between Cremorne and Spit Junctions). Fortunately Boronia was saved to provide a wonderful home for the municipal library for many years.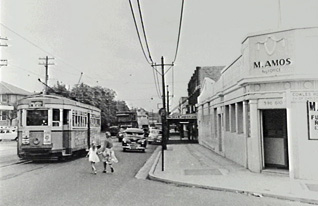 Trams ran along Military Road from 1893 (North Sydney to Spit Junction) till 1958. Their destinations were Wynyard, Chatswood, Lane Cove and Cremorne Wharf in one direction, and The Spit, Spit Junction, Balmoral, Taronga, Athol and Mosman Wharf in the other. They stopped at every stop regardless of need, and the traffic had to stop behind them so that passengers could get on or off safely. There were not median strips, no clearways, no closed-off side streets or 'No Right Hand Turn' signs. Spit Junction didn't get traffic lights till the late 1960s when they replaced the traffic cop.
The removal of the tram tracks meant a total of four lanes of traffic could move along the road without constant stops and starts. Increased traffic meant the road had to be widened here and there, the playgrounds of the Sacred Heart Convent and the neighbouring Marist Brothers school lost a considerable depth of frontage. Two more lanes have since been added and the traffic, which used to stop around midnight, now continues all night long.